Dashboard was built with Adobe Flash technology which web browsers stopped supporting after December 31st, 2020. As a result, Dashboard will be temporarily unavailable for approximately 45 to 60 days from this date as we rebuild the tool with supported technology. During this downtime, we expect to make widgets available in 2 week increments until the application is fully restored.
Your organization may or may not have uninstalled Adobe Flash Player in your browser(s). Whichever is the case, Dashboard users will now receive the following popup message when they attempt to login to Dashboard after December 31st, 2020: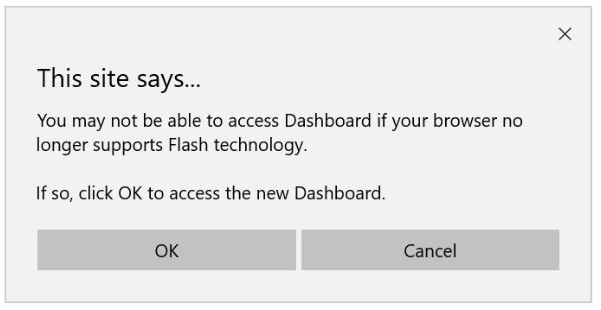 Clicking OK will redirect users to the new Dashboard under construction where progress updates can be found.
Clicking Cancel will take users to the old Flash Dashboard which is static as the data is no longer being refreshed.
Please contact your internal Anodyne administrator for more details.
We apologize for the inconvenience and thank you for your patience.
Regards,
The Analytics CSC Team